We have a wonderful reading interventionist who is out on sick leave until January. I have the privilege of meeting with her groups until she can return.
The first group of kindergarten students I meet with every day are new to school in America and they're learning how to speak English as well as learning how to do school.
Our district intervention protocol requires interventionists to use the LLI kits from Fountas and Pinnell for students reading below grade level. If you know anything about that resource, you might agree with me that it's a powerful tool to use with students who require reading intervention.
It's not, however, the best tool for students who speak little or no English.
Each session with my darling NES friends starts with word work. Paying close attention to the phonological awareness continuum, I make sure we are  working on number of syllables in words, rhyming words and initial sounds. The games we play are engaging and perfect for helping these budding readers to hear and differentiate sounds and syllables.
After word work, we move to our shared reading poem or text. Larry Felazzo and Katie Hull Sypnieski in their book, The ESL / ELL Teacher's Survival Guide: Ready-to-Use Strategies, Tools, and Activities for Teaching English Language Learners of All Levels coach teachers to plan for ELL students' instruction by planning reading, writing, speaking, and listening through thematic units.
Our group began the year by learning about leaves and the changes they undergo. We explored that topic through poetry in shared reading, the use of realia, pictures and books. The next couple of weeks we learned loads about apples. That topic study ended with us "reading" a simple recipe for applesauce cooked in a crockpot. The students practiced speaking simple sentences about apples and the different types they found to be their favorite. I wrote down their words on white paper strips and then cut the sentences into words. Our four ELL scholars worked to put the word strips into sentences.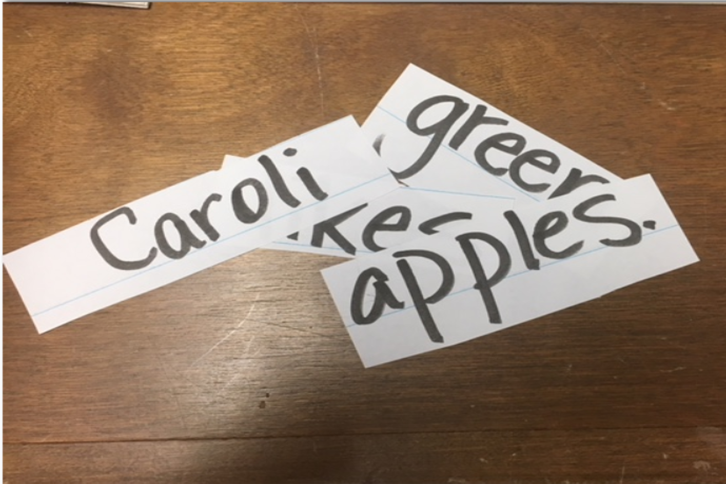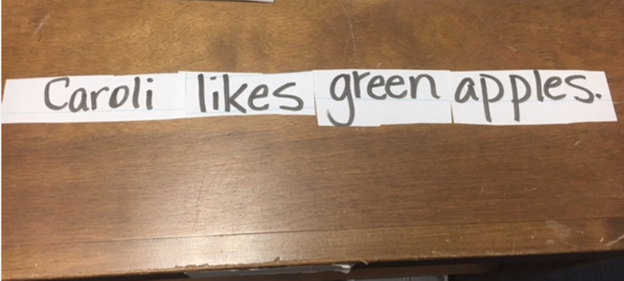 We've repeated the process again with other thematic topics. Our sessions are filled with phonological awareness work, letter work (sorting magnetic letters), forming letters as they write, listening to and repeating shared poetry, labeling pictures and realia, writing or dictating simple sentences and lots of engaging read-alouds.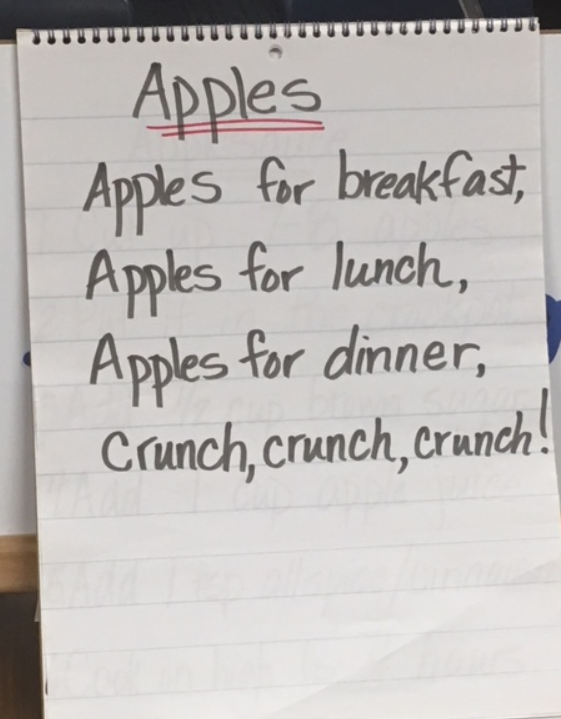 It's critical for me to plan for these learners to spend equal amounts of time speaking. I model by speaking simple sentences and then prompting students to repeat after me. One of the students has not initiated any speaking on her own until last week when she entered our classroom and asked, "We eat apples today?" (During our apple-themed week, we'd sampled five different types of apples to check for the variety that would make the loudest crunch.)
Two weeks ago I introduced sight readers that I ordered from Short Books. It was a delight seeing their pride in being able to read a book all by themselves. These brave little souls are working so hard each day reading, writing, speaking and the progress they're making is a joy to watch.
It won't be long now before these young readers and I will be able to move into the early LLI lessons. They've learned a lot in a just a few short weeks.
And so have I.
Comments
comments